Yes, your electric vehicle does need maintenance from time to time. Following EV maintenance intervals is essential to maintain optimal performance; to ensure safety for you, your passengers and those around you; to comply with warranty requirements; to prolong the lifespan of your components; preserve resale value and to maximize efficiency and range.
Let the Certified Service experts at Sherwood Park Chevrolet look after your electric vehicle. Regular health checks and maintenance from a trained technician will help to avoid costly repairs in the future. Schedule service for your electric vehicle today!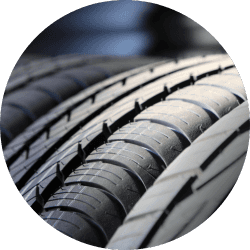 TIRES
Rotate Every 12,000km
The first tire rotation is the most important! The torque delivered by your EV can lead to increased stress on your tires. By rotating your tires regularly, wear is distributed more evenly, maximizing traction and safety on the road.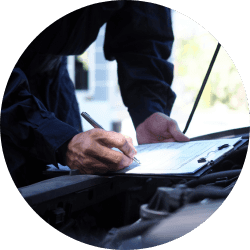 VEHICLE HEALTH CHECK
Every 12,000km
An inspection for your EV is vital for safety, performance, warranty compliance, resale value, and early problem detection. It is recommended to have inspections performed by certified technicians with expertise in electric vehicles to ensure a comprehensive evaluation of your EV's condition.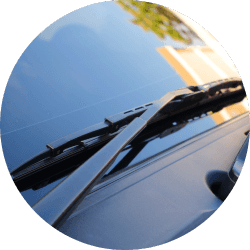 WIPER BLADES
Inspected Regularly
Checking wiper blades is crucial for visibility and safety. Worn or damaged blades can impair visibility during inclement weather and may even damage the windshield. Regular checks ensure clear visibility and prevent costly windshield repairs.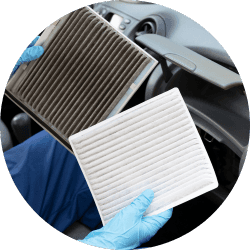 AIR FILTERS
Replace Every 36,000km/24 months, whichever comes first
Regularly replacing the cabin air filter improves the overall air circulation, filters out pollutants, and enhances the comfort and well-being of passengers. It also helps maintain the performance of the vehicle's heating, ventilation, and air conditioning (HVAC) system.

---
Additional Required Services
Every 5 years
Replace brake fluid. Brake fluid is hydroscopic, meaning it absorbs moisture over time, which can lead to decreased brake performance and potential damage to critical brake components. Regularly replacing the brake fluid removes moisture and contaminants, ensuring optimal brake function, responsiveness, and reliability.
Every 161,000 km 
Replace hood and/or body lift support gas struts. Or every 10 years, whichever comes first.
Every 240,000 km
Drain and fill vehicle coolant circuits. Or every five years, whichever comes first.
Every 7 years
Replace Air Conditioning Desiccant. The air conditioning system requires maintenance every seven years. This service requires replacement of the desiccant to help the longevity and efficient operation of the air conditioning system. This service can be complex. See your dealer.
Sherwood Park Chevrolet is located at:
500 Premier Way • Sherwood Park, AB T8H 0R5
Maintenance Intervals - EV