Stylish and stunning with zero compromise on power.
The Blazer EV offers a GM-estimated range of up to 515km coming from the RS RWD on a full charge.* Go the extra distance with Regen on Demand and One Pedal Driving which helps converts the Blazer's kinetic energy into stored energy, kept in the batter for later use to help get the most range.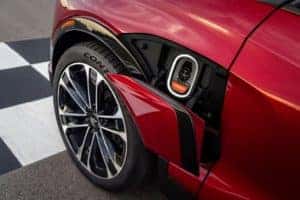 Home Charging – Skip the gas station and charge up your Blazer EV from the convenience of your home. The Chevrolet Blazer EV comes with a Dual Level Charge Cord, which means flexible at-home charging that fits into your routine easily and conveniently.  The dual level charge offers level 1 a 120-volt charge, or the level 2 a 240 volt charge.
On-the-Go Charging – Quickly charge while on the go. The Chevrolet Blazer EV can be plugged in at any of the 100,000 plus public charging points across Canada and the U.S. This means more time to enjoy driving without the worry.